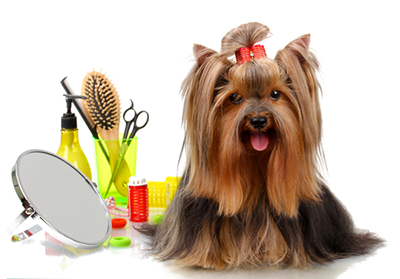 Bathing – all pets will enjoy our follicular flush.  A luxurious, all natural shampooing complete with massage and ear cleaning with your choice of specialty products add on a breath freshening tooth brushing or deep cleansing facial for the ultimate spa experience.
Drying – Our drying process loosens and eliminates dead hair while fluffing your pets coat.  Regular grooming lessens the amount of hair left around your home by your pet. Heavy shedders can benefit from our D shed and Carding services
Trimming – Not all dogs require all over hair cuts.  These pets will benefit from a basic neatening.  We concentrate on the feet, face and tail giving a balanced, neat and healthy appearance.
Classic and Designer Cuts – These are our all over make overs.  Our staff prides itself on knowing how to bring the beauty out of any pet.  Our technicians are here to listen to your requests and help you choose a cut that is right for your lifestyle. Whether its a short practical clipper cut or a hand scissored masterpiece we are up to the challenge
Fooling with Mother Nature – Unfortunately, our pets will at some point find themselves the victim of mother nature.  Whether a tango with a skunk or picking up unwanted passengers in the form of fleas or ticks.
We can help!
Flea Funerals Daily

All natural, non toxic solutions to eliminate the pests living on your pet

D Skunking, for when they play with the black and white kitties or what they thought was a kitty

Our solution will help to neutralize the mercaptans which produce that awful smell
Maintenance Plans – we offer a discount to those of you who like to book in advance.  Clients who rebook in 2 – 8 week intervals will receive up to $10 of free services with each visit.  (i.e. shampoo upgrades, conditioners or specialty shop supplies)
NO DROP OFF services – These are services that can be done while you wait
Just Nails – Great for the DYI owner needing help with nail maintenance
Face only trims (helps between grooming to keep the sight lines clear and the muzzle area neat)
Sanitary trims  (For when the debris is no longer clearing the fur)
Ear cleaning or plucking ( a clean ear hears better and is less likely to get an infection)
We also offer:
Pet TAXI home

Mornings are hectic but if you can drop off your pet we will happily give them a ride home.  Many people working long hours have a hard time scheduling their pets grooming into their crammed schedules….WE CAN HELP!
Just make arrangements when booking your appointment.  All we need are your instructions for when we arrive.  Whether its go on in its open or here are the codes, keys or garage door opener. We can get them back to your    home or office.  We will even text or call you to let you know they are home safe and sound.
Doggy Valet Service

Have a hard time getting your pet to and from the car?  WE CAN HELP!
Just let us know and we will take care of it.  (Great for seniors and people experiencing physical difficulties or multiple pet owners)

Wash N Go

A seasonal service for those pets just needing a quick bath and towel dry (available when climate allows)

Add we do cats too!….